The Island's Largest All-inclusive Family Resort.
Enjoy the all-inclusive, fun-for-all-ages Sonesta Maho Beach Resort, Casino & Spa in Sint Maarten, located minutes from the airport overlooking famed Maho Bay. The 420-room resort is set on a ten-acre ocean front property offering a variety of accommodations, first-rate amenities, and stellar personalized service for singles, couples, families and groups. 
The resort features the signature Oasis Pool with swim-up bar, Beach House Kids Club and Aqua Park, multiple restaurants and a pizzeria, several bars, Serenity Spa, fitness center, and complete meeting and weddings facilities. A fun and friendly entertainment program with live music, daytime and evening activities, SunFit fitness and well-being program. 
Elevate your vacation experience from memorable to unforgettable.
Maho Beach Resort, Casino & Spa
1 Rhine Rd
Maho Village Maho Bay, Sint Maarten
Contact
+1.721.545.2115
reservations@sonestastmaarten.com
The biggest sale of the year you've been waiting for is here!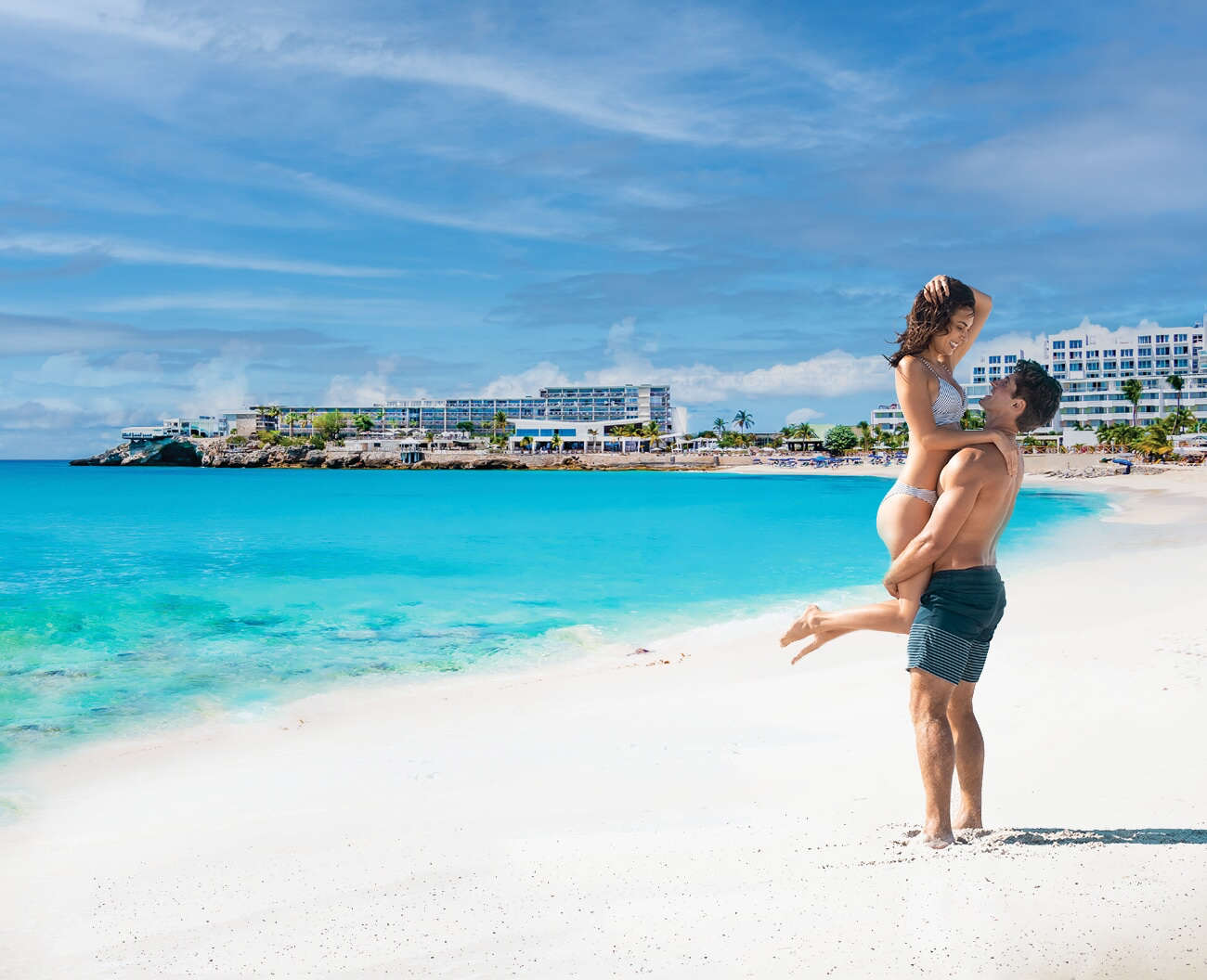 BLACK FRIDAY IS HERE!
Our biggest ever Black Friday Sale is here. Up to 50% savings on travel now through December 21, 2023.
3 nights minimum stay. Book now through November 28, 2022.
Fully refundable up to 21 days before you travel.
Conditions for this promo: Full deposit upon reservation. Subject to availability. All general terms and conditions apply.
Direct beach access and great customer service. They have activities all day for adults and children. Good amount of restaurant options on site. — T. Steward, Facebook
I highly recommend this place. Great food and drinks. Each and every employee was very pleasant. You will not be disappointed. The live entertainment was fantastic. Definitely coming back next year. — P. Fisher, Facebook
My experience at Sonesta Maho Beach Resort, Casino & Spa was a really good one being my second time staying there. Mostly due to the friendly and helpful staff at the front desk! In particular Daphne was one who stood out! Her personality, friendly attitude, and resourcefulness made things go smoothly for me from check in to check out!
The Sonesta is located in a perfect place in the midst of casinos and other lively night time entertainment that you can walk to from the hotel! The rooms are clean and spacious and have drawers for storage, a refrigerator, and a balcony with a table and two chairs to sit out on with most rooms. — J. Lowe, Facebook
When we arrived, we were treated with such royalty. The check in was very smooth, my speedy, and most of all exciting. The service and amenities are impeccable. The service, the food, and the staff at all of the restaurants are incomparable!! — A. Farrar, Customer Survey Questionnaire
I arrived at approximately 4:30 PM and Alexandre was very helpful in giving information about our luggage and check-in. He took our luggage to our rooms and informed us that he would be available to assist us with any questions we might have throughout our entire 8 day vacation.
The guest room was beautiful and very spacious with more than adequate accommodations. I was surprised by the glass window which allowed you to look into the bathroom and shower from the bedroom until I read the instructions for frosting the window! The food was excellent and plentiful!
My non-alcoholic drinks were delicious and the coffee was fabulous! Service was good, people were pleasant and facilities were very inviting. We attended a wedding event. It was beautiful! Please recognize Alexandre for his outstanding and caring personality and a job well done!— J. Rhoden, Customer Survey Questionnaire
17 of us came to Sonesta Maho Beach Resort to celebrate my brother's and his wife's 55th wedding anniversary, Jing's provided awesome service and was able to accommodate the large group. The manager and her team were the best. All deserve recognition for there professionalism and hospitality. The hotel as always was beautiful. Love the upgrade features in the bathroom. — W. Arnold, Customer Survey Questionnaire
I have visited Sint Maarten for over 20 years, the last few visits at Sonesta Maho Beach Resort. The resort has beautiful grounds which is the first thing I noticed. I find the staff very pleasant and welcoming.
For meals I tend to go back for each meal to the same area, because I enjoy being served by the same staff (they get to know me and I know them.) I have tried all the different restaurants and enjoyed them all. Each one provides something different from buffet to full service. I love the restaurant were you cook on a stone at your table.
The beach and ocean right on the grounds are fabulous, plus i get to see the planes. The rooms are modern and very clean, and provide everything I require. Sint Maarten is known as The Friendly Island, for me also included is this hotel as the Friendly Hotel. I am only four days away from my next visit. Looking forward to a great vacation at this Hotel! — J. Pollock, Google Business
Very nice hotel, very well located. Less than 5 minutes by car from the airport and on the beach of Maho. The service is pleasant, several restaurants on site for all tastes and at any time of the day. spacious and clean room. Casino on site. We organize daily activities to satisfy the client. A convention space also available to organize any type of event, such as conference, gala, wedding, etc. An impeccable view of the beach that allows you to experience the landing of planes. A rather impressive image.
The buffet is plentiful. The pool large enough and always lively. A superb beach. Also, if you prefer to go out, in the immediate area, there are plenty of other good restaurants, the large Casino right in front of the hotel. I think it's one of the nicest and biggest hotel in Sint Maarten.
If, however, you have the chance to spend a few days in Sint Maarten, I highly recommend this hotel and you will not regret it. Without forgetting that the staff does everything to make life easy, from your arrival until your departure. Oh, I was going to forget to tell you that your room key is on a bracelet so you can't forget your key in the room because it's always with you. For people like me who like to forget their card in the room you will love this option.
— I. Richard, Google Business